SURESEAL® Self-Activating Pressure Bandage
Regular price
Sale price
$36.00 SGD
Unit price
per
Sale
Sold out
SURESEAL® Self-Activating Pressure Bandage are used by Dialysis Centres / Hospitals worldwide as a post-dialysis wound dressing. The cellulose pad expands to several times its original size on contact with blood. It can reduce pressure time over the traditional tape and gauze plus seals and isolates the site securely on all sides. They are versatile and may be used on most venous and arterial dialysis and blood sampling sites. SURESEAL Bandages contains NO LATEX and are suitable for people with sensitive skin or latex allergies.
Features of SURESEAL Self-activating Pressure Bandages
* Expands to apply pressure continuously
* SURESEAL cellulose pad expands on contact with blood to several times its original size
* Adhesive strip securely seals the pad on all four sides to help protect the site from leakage as pad continues to expand, dressing creates and sustains the direct pressure to help reduce clotting time
* More effective alternative to gauze dressings.
* Versatile - can be used on most venous and arterial dialysis and blood sampling sites
* Benefits for Physicians, Nurses, Caretakers, Hospital and Dialysis Clinic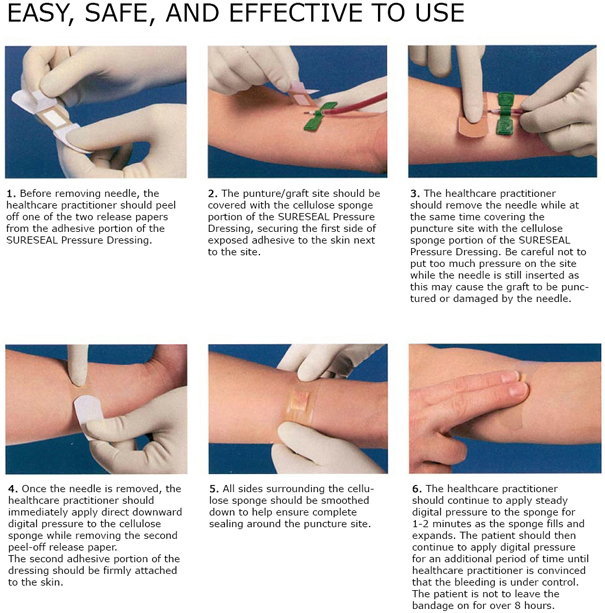 Share